Democratic Senator Joe Manchin hasn't formally announced a 2024 reelection campaign, but he already has some notable GOP challengers in his home state of West Virginia.
Manchin is often maligned by his own party's members for his voting record that is more closely aligned with Republicans than any other current Senate Democrat, including nixing President Joe Biden's "Build Back Better" legislation and not being in favor of reforming the filibuster to pass voting rights legislation.
He has defended his voting record by saying he is "not a Washington Democrat" and that "there's a complete different constituency that we all serve," referring to a plethora of rural voters whose issues differ from urban and suburban areas.
West Virginia Representative Alex Mooney is among those challenging Manchin in two years if he runs for reelection, telling a local radio show he is "all in" and running for the "sake of this country."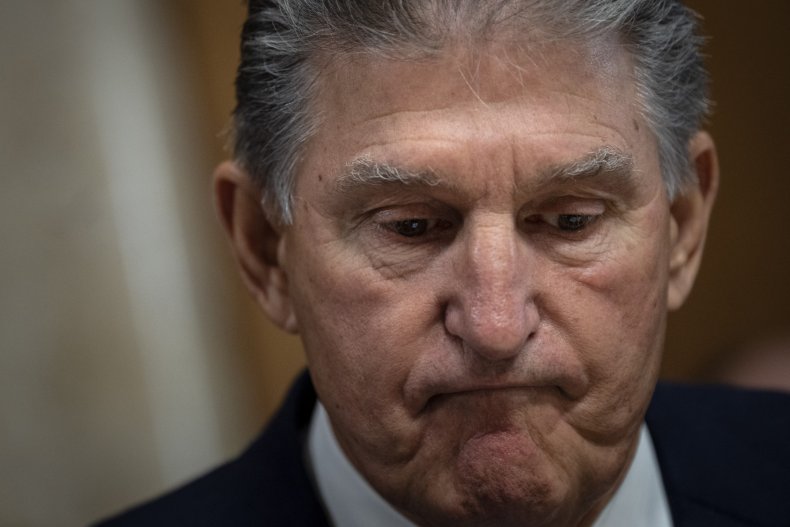 "It's never been about me, it's about America," Mooney told Talkline host Hoppy Kercheval a week ago, according to WTRF. "We are under threat. West Virginia values are at risk in this country.
"Until we take this U.S. Senate seat back and get Joe Manchin out of there, he's been the chief enabler of Joe Biden. I think he's a liberal Democrat and West Virginia doesn't deserve that anymore."
When asked about his intentions Tuesday because of his term-limited position, West Virginia Governor Jim Justice said he is "very seriously considering running for Senate" but hasn't made a decision.
Justice was the only billionaire in West Virginia when he won his gubernatorial election as a Democrat in 2016, possessing an estimated net worth of $1.2 billion. Forbes attributed his wealth to an inherited coal business from his father.
After switching his political affiliation to Republican just six months into his first term, Justice was removed from Forbes' billionaire list in 2021 because he owed millions of dollars to lenders.
The 71-year-old has been governor since 2017. He said he's aware of other Republicans throwing their hats in the ring and wishes them the best.
"I truly believe the people in the great state of West Virginia are with me in whatever decision I make," Justice said Tuesday during a briefing on the state's COVID-19 response. "I'm sure they'll be right with me as they know without any question I'll be right with them.
"With all that being said, a lot of thinking and planning and discussion ongoing with my family and lots of folks. But serious, serious consideration. You'll know real soon."
Republican Attorney General Patrick Morrisey is another Republican weighing a Senate run. Morrisey, who ran against Manchin in 2018 and lost by about 3 percentage points, told The Hill that Manchin's support of the Inflation Reduction Act will negatively affect his political standing in 2024.
"Senator Manchin deeply disappointed West Virginians and let them down tremendously when he supported the 'Build Back Broke' bill last summer," Morrisey said. "That legislation really hit our state very hard.
"You can dress up the pig any way you want, but most people in West Virginia understand that that bill is going to hurt us. He let the air out of his balloon and it's not going to be so easy to pump it back up."
Manchin's office told WTRF in a statement that the senator encourages "every candidate who values public service to enter the race," adding that the democratic process "has never been more important."
Newsweek reached out to Manchin, Justice and Mooney for comment.