Best known for playing a bluegrass-singing mother with an ill daughter in the Oscar-nominated "The Broken Circle Breakdown" and a relentless cop on the television show "Code 37," actress Veerle Baetens donned a director's cap for her feature debut "When it Melts."
Based on Lize Spit's novel "The Melting," the film premiered in this year's Sundance World Feature Competition. The actress-turned director and Rosa Marchant — who plays the film's protagonist in her childhood years — joined Sharon Waxman to discuss the picture's unflinching, uncompromising look at the lingering impact of childhood trauma with TheWrap's Portrait and Video Studio at The Music Lodge.
Explaining the film's cryptic title, Baetens argued it's about how the protagonist isolates herself after a childhood incident, and how such trauma makes her a frozen person. "It's a beautiful metaphor for people who have experienced trauma to be in a frozen state of mind, to just live but not really live."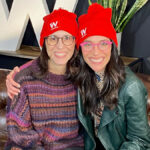 17-year-old Marchant, whom Waxman acknowledged looked a bit younger ("It gives you the opportunity to play younger parts") claims she was unfazed by the dark and potentially grueling subject matter, and that she read the original novel even before she auditioned.
"It's also just an important story to tell," Marchant stated. "It's very universal." Marchant stated she had peers who had already seen the film and gave it a proverbial thumbs-up. It was, to quote Marchant sharing her friend's reaction, "so recognizable to her and … how it is to be a girl right now."
Batens noted she wanted to show the young version of the film's main character before the inciting incidents to make a point that it was partially due to her experiences that she became a "little bit inept, socially," she said.
"I wanted to show her younger version there was nothing wrong there, where everything is still possible. And all the beauty, and all the warmth, and everyone around her is is human, and then it gets just blown away," she said. She also noted that she "wanted the public to feel as a friend or family to this person and become her only friend and family."
The filmmaker finished the conversation by declaring a need for films that are about the real world, even in a time when audiences are more inclined to pursue cinematic escapism.
"I know we're in a time [amid Covid and the war in Ukraine] and everyone wants a toy. I understand, but in a way, it's not Disney. I mean, the life is not all Disney. We need to still keep on showing stories that matter. We need to talk about what's happening in reality. We don't have to shut our eyes, because then we do the same thing as the people in the movie," she said.
Watch the full interview above.
TheWrap's Portrait and Video Studio at The Music Lodge during the 2023 Sundance Film Festival is sponsored by NFP along with support from Sylvania and HigherDOSE